Sun
Mon
Tue
Wed
Thu
Fri
Sat

Music in the Grove

6:30 pm

Music in the Grove

@ Wooster Memorial Grove Park

Aug 1 @ 6:30 pm – 8:30 pm

Music in the Grove is back this Summer. We'll be there so stop by our table and say hello. We'll have t-shirts, raffle tickets and other goodies for sale. July 11 Soul Purpose July 18…Hillbilly[...]

Music in the Grove

6:30 pm

Music in the Grove

@ Wooster Memorial Grove Park

Aug 8 @ 6:30 pm – 8:30 pm

Music in the Grove is back this Summer. We'll be there so stop by our table and say hello. We'll have t-shirts, raffle tickets and other goodies for sale. July 11 Soul Purpose July 18…Hillbilly[...]

A Walk in the Park Dog Walk

9:30 am

3rd Annual Angry Orchard Event

11:00 am

3rd Annual Angry Orchard Event

Aug 12 @ 11:00 am – 5:00 pm

Meet some of our amazing adoptable dogs while enjoying the picturesque setting of Angry Orchard. Food, t-shirts, raffle tickets, and more will be available for purchase. Several vendors will offer food, crafts, and local delights.[...]

Music in the Grove

6:30 pm

Music in the Grove

@ Wooster Memorial Grove Park

Aug 15 @ 6:30 pm – 8:30 pm

Music in the Grove is back this Summer. We'll be there so stop by our table and say hello. We'll have t-shirts, raffle tickets and other goodies for sale. July 11 Soul Purpose July 18…Hillbilly[...]

Board of Directors Meeting

7:00 pm

Board of Directors Meeting

@ Walden Savings Bank

Aug 15 @ 7:00 pm

Meetings are held at the Walden Savings Bank at Scotts Corners, on the 3rd floor, on the 3rd WEDNESDAY of every month at 7 pm. Citizens concerned with animal welfare, volunteers and new members are[...]

Adoptability Training

9:30 am

Adoptability Training

@ The Humane Society of Walden

Aug 17 @ 9:30 am – 10:30 am

Join our free bi-weekly adoptability training session with Anna Cilento, founder of Suruluna a safe-haven for rescue dogs. During these sessions you'll work with one of the HSW dogs in the onsite dog park. If[...]

Walker Valley Shawangunk Day

10:00 am

Walker Valley Shawangunk Day

Aug 18 @ 10:00 am – 4:00 pm

It's a great day to spend with family and friends. Maybe you'll even adopt a new family member! Stop by our tent and meet some of our animals. Festivities will take place at several locations[...]

Music in the Grove

6:30 pm

Music in the Grove

@ Wooster Memorial Grove Park

Aug 22 @ 6:30 pm – 8:30 pm

Music in the Grove is back this Summer. We'll be there so stop by our table and say hello. We'll have t-shirts, raffle tickets and other goodies for sale. July 11 Soul Purpose July 18…Hillbilly[...]

Adoptability Training

9:30 am

Adoptability Training

@ The Humane Society of Walden

Aug 24 @ 9:30 am – 10:30 am

Join our free bi-weekly adoptability training session with Anna Cilento, founder of Suruluna a safe-haven for rescue dogs. During these sessions you'll work with one of the HSW dogs in the onsite dog park. If[...]

Music in the Grove

6:30 pm

Music in the Grove

@ Wooster Memorial Grove Park

Aug 29 @ 6:30 pm – 8:30 pm

Music in the Grove is back this Summer. We'll be there so stop by our table and say hello. We'll have t-shirts, raffle tickets and other goodies for sale. July 11 Soul Purpose July 18…Hillbilly[...]

Adoptability Training

9:30 am

Adoptability Training

@ The Humane Society of Walden

Aug 31 @ 9:30 am – 10:30 am

Join our free bi-weekly adoptability training session with Anna Cilento, founder of Suruluna a safe-haven for rescue dogs. During these sessions you'll work with one of the HSW dogs in the onsite dog park. If[...]
Volunteer at the Humane Society of Walden
The Humane Society of Walden is a no-kill, non-profit safe haven dedicated to helping stray and abandoned cats and dogs. Our animal shelter serves the communities of Montgomery, Walden, Maybrook, Crawford, Wawarsing, Shawangunk, and Mamakating, but will not turn away pets from across the country in need.
Humane Society of Walden
2489 Albany Post Road
Walden, New York 12586
Aug
15
Wed
Board of Directors Meeting

@ Walden Savings Bank
Aug 15 @ 7:00 pm
Meetings are held at the Walden Savings Bank at Scotts Corners, on the 3rd floor, on the 3rd WEDNESDAY of every month at 7 pm.
Citizens concerned with animal welfare, volunteers and new members are welcome.
We are always seeking individuals with the skills and the desire to join the Board and Committees working to insure the shelter's future and uphold its mission.
Aug
17
Fri
Adoptability Training

@ The Humane Society of Walden
Aug 17 @ 9:30 am – 10:30 am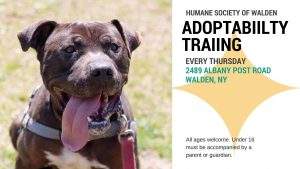 Join our free bi-weekly adoptability training session with Anna Cilento, founder of Suruluna a safe-haven for rescue dogs. During these sessions you'll work with one of the HSW dogs in the onsite dog park. If you are thinking of adopting it's also a great way to get to know the dogs.
To learn more about Suruluna – Saving The Hearts and Lives of Rescued Dogs visit: http://www.suruluna.org/
**All ages welcome. Under 16 must be accompanied by a guardian.**