Sun
Mon
Tue
Wed
Thu
Fri
Sat

Adoptability Training

9:30 am

Adoptability Training

@ The Humane Society of Walden

Jun 7 @ 9:30 am – 10:30 am

*** The weekly training sessions will now take place from 9:30 AM to 10:30 AM for the well-being and comfort of the dogs and volunteers during the warmer months. *** Join our free weekly adoptability[...]

Adoptability Training

9:30 am

Adoptability Training

@ The Humane Society of Walden

Jun 14 @ 9:30 am – 10:30 am

*** The weekly training sessions will now take place from 9:30 AM to 10:30 AM for the well-being and comfort of the dogs and volunteers during the warmer months. *** Join our free weekly adoptability[...]

Wagner's Ice Cream Paw-ty

12:00 pm

Wagner's Ice Cream Paw-ty

@ Wagner's Ice Cream & Snack Shack

Jun 16 @ 12:00 pm – 2:00 pm

Stop for the Wagner's Ice Cream & Snack Shack ice cream and stay to meet some of our adoptable animals.

Board of Directors Meeting

7:00 pm

Board of Directors Meeting

@ Walden Savings Bank

Jun 20 @ 7:00 pm

Meetings are held at the Walden Savings Bank at Scotts Corners, on the 3rd floor, on the 3rd WEDNESDAY of every month at 7 pm. Citizens concerned with animal welfare, volunteers and new members are[...]

Adoptability Training

9:30 am

Adoptability Training

@ The Humane Society of Walden

Jun 21 @ 9:30 am – 10:30 am

*** The weekly training sessions will now take place from 9:30 AM to 10:30 AM for the well-being and comfort of the dogs and volunteers during the warmer months. *** Join our free weekly adoptability[...]

Adoptability Training

9:30 am

Adoptability Training

@ The Humane Society of Walden

Jun 28 @ 9:30 am – 10:30 am

*** The weekly training sessions will now take place from 9:30 AM to 10:30 AM for the well-being and comfort of the dogs and volunteers during the warmer months. *** Join our free weekly adoptability[...]

Kitten Shower

@ Humane Society of Walden NY

Jun 30 @ 12:00 pm – Jul 1 @ 2:00 pm

Join us for our annual Kitten Shower on Saturday, June 30th. Stop in anytime between 12 PM – 6 PM to enjoy a day full of fun, education, crafts and games! We'll have raffle prizes[...]
Volunteer at the Humane Society of Walden
The Humane Society of Walden is a no-kill, non-profit safe haven dedicated to helping stray and abandoned cats and dogs. Our animal shelter serves the communities of Montgomery, Walden, Maybrook, Crawford, Wawarsing, Shawangunk, and Mamakating, but will not turn away pets from across the country in need.
Humane Society of Walden
2489 Albany Post Road
Walden, New York 12586
Jun
28
Thu
Indoor Yard Sale

@ Humane Society of Walden NY
Jun 28 @ 9:00 am – 3:00 pm
Come shop our Yard Sale room! There's something for everyone! All proceeds benefit the cats and dogs in our care.
We accept donations on Mondays, Wednesdays, and Fridays from 10:30 am -1:00 pm. Except Holidays.
**Donations can not be accepted on Yard Sale days.**
Please do not leave any items outside the yard sale room (as the elements may ruin them) or inside the lobby.
Any donations over 3 boxes please call 845-778-5115 to make an appointment.
The following is a list of items we CANNOT accept:
Computers
Electronics
Clothes
Exercise equipment
Large furniture
Stuffed animals
VHS tapes
Religious items
Destination items

Thank you for your continued support.
Adoptability Training

@ The Humane Society of Walden
Jun 28 @ 9:30 am – 10:30 am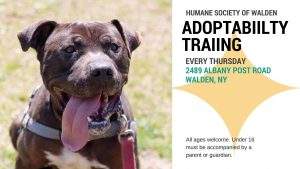 *** The weekly training sessions will now take place from 9:30 AM to 10:30 AM for the well-being and comfort of the dogs and volunteers during the warmer months. ***
Join our free weekly adoptability training session with Anna Cilento, founder of Suruluna a safe-haven for rescue dogs. During these sessions you'll work with one of our shelter dogs in the onsite dog park. If you are thinking of adopting it's also a great way to get to know the dogs.
To learn more about Suruluna – Saving The Hearts and Lives of Rescued Dogs visit: http://www.suruluna.org/
**All ages welcome. Under 16 must be accompanied by a guardian.**