Make Adoption Your
First Option!
If you wish to adopt one of our shelter friends, you will be asked to fill out an adoption application and provide vet references. All cats and dogs leaving the shelter must be spayed or neutered before going home with you.
We request a donation of $270 for dogs, $400 for puppies or purebred dogs and $125 for cats and kittens (purebreds $200). This helps cover the cost of feeding, spaying or neutering, de-worming, testing and vaccinating your new pet. All dogs are microchipped.
Also, check with the shelter daily as animal registry changes frequently. Once your application has been approved please allow up to 1 hour for the adoption process.
If you currently have a dog at home and are looking to adopt a canine friend, a staff supervised introduction will take place between your dog and the adoptable dog. A proper introduction can is important when 2 or more dogs meet for the first time.
Our FIV+ and FeLV+ cats are all healthy and beautiful and are some of the most loving, affectionate cats we have ever met – but most of them have been waiting a long time to be adopted, just because people who don't know any better are afraid of the virus they carry. Please consider adopting one of these wonderful cats! If you meet them, you will fall in love!
All fees are waived to approved adopters.
Adoptable Pets at the
Humane Society of Walden
Below are some of the pets available for adoptions. You can also stop by the shelter between 12 and 4 pm every day (closed major holidays), or call us at 845-778-5115. Please stop by and visit, you may fall in love with a companion for life!
Please note, a few of our cats are waiting for adoption in Middletown or Monroe Petsmart stores.
No pets available at this time
Spay and Neuter Your
Pets!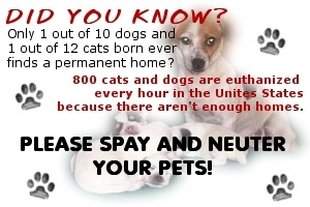 Every years millions of animals are put to sleep because there are not enough homes for them all. Recent statistics show that only 1 out of 10 dogs and 1 out of 12 cats born will find a permanent loving home.
800 cats and dogs are euthanized every hour in the United States alone.
Please Spay and Neuter Your Pets! And always make adoption your first choice when choosing a cat or dog for your family.