A Walk in the Park with Dogs
from the Humane Society of Walden
Whether you amble, ramble, or scramble…we have a walk for you…and the dogs to go with it. All paces welcome – meandering to marathon! Our shelter dogs LOVE strolling in the woods.
Here's how the dogs benefit from our Sunday morning walks:
They get a much-needed break from the shelter environment.
The dogs are totally engaged during outings in the park. Barking, spinning, and jumping behaviors fade away.
The dogs return to the shelter happy, tired, and ready to relax.
Park outings provide an opportunity to reinforce basic commands in a new environment.
Walking in the park provides the dogs an opportunity to socialize with strangers, make a good impression, and maybe even find a forever home.
Shelter dogs are exposed to other dogs in the park and can practice and show off their good manners.
Volunteer at the Humane Society of Walden
Volunteer at the Humane Society of Walden
These outings are an excellent source of exercise and the best gift you can give to these pups – short of adopting one!
Meet us at the shelter at 9:30 a.m. on Sundays to be matched with the perfect pup. Walking guidelines will be discussed. We are usually back at the shelter by noon.
This program is separate from volunteering at the shelter. If you'd like to volunteer at the facility or off sites you must complete an orientation.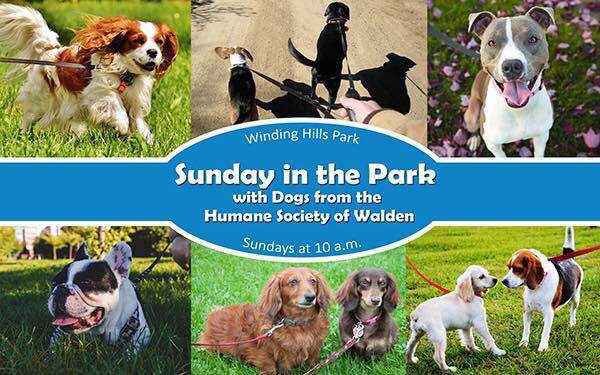 Please be sure to keep the following guidelines in mind:
New Volunteers: For your first walk with HSW you will be paired with a Senior Dog Walker Volunteer and their dog. Often times we'll have new volunteers stay onsite for their first visit or two so they can start to get to know several of the dogs.
Pay attention: You are responsible for the dog's safety. Please be aware of your surroundings at all times.
Strangers: Don't allow strangers to approach and pet your dog. Politely tell them the dog is in training and if they would like to meet them please visit HSW.
Dog Interaction: Our dogs are great and love to be pet, but please keep your face away from theirs and do not give hugs. This helps ensure both you and the dog stay comfortable.
10-foot rule: There's plenty of room so keep all dogs 10 feet from one another. For the safety of everyone no socialization between our dogs or other dogs in the park.
Harness and leash: Periodically check your dogs leash and harness to make sure they are secure.
No smoking: Please no smoking around the dogs.
No cell phone use: To help prevent a potential distraction cell phone use is prohibited while you are holding the leash. 
Doggie bags: We'll supply you bags and treats. Please remember to pick up after your walking buddy.
Close-toed shoes: Must be worn for the dog walk.
Required age: Walkers must be at least 21 years old to hold the leash offsite.
Be sure to check for rain dates or cancellations due to holidays.
Hope to see you! Please e-mail lisa@waldenhumane.com if you're interested and with any questions.
Photos from previous walks