The Humane Society of Walden is committed to rescuing animals in need. We take in dogs from all walks of life, and we work tirelessly to provide them with the care and support they need to recover and find loving forever homes. In order to do our job effectively, we need the right tools.
waldenhumane.org/3dollar
If everyone would be so kind to empty their change cups in their  cars, empty your junk drawer at home  … look in your  couch cushions? Shake out your purse  … all that "found" change would mean so much put together with other supporters! We could make our goals reached almost effortlessly.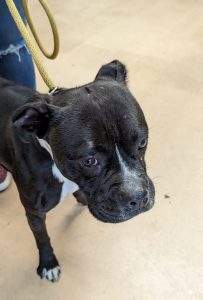 Our two "goal" items are a pet scale
Example of the need below- meet Roger our bouncy beauty of a stray. He was found recently and is very skinny. A scale would help us accurately record his entrance weight and what he gains in the following weeks.
Our other item is a dog treadmill
These are specially made for canines in care! Some of our pups here would benefit mentally from the physical release they'd get with a focused walk… like Loki our Husky, Rain our pit/Dane mix or Sammy our Shepherd mix… these pups would benefit greatly.
Every little bit helps, and every dollar we raise will go directly towards the purchase of these essential tools. Together, we can make a difference in the lives of the dogs in our care.
A dog scale is an essential tool that allows us to monitor the health and well-being of our furry friends. We need to be able to accurately weigh each dog that comes into our care, so they are getting the right amount of food and medication. We desperately need a new one to ensure we can provide the best possible care to our furry friends.
A dog treadmill is an invaluable tool for rehabilitation. Many of the dogs that come into our care have suffered from neglect, abuse, or illness. A dog treadmill allows us to safely and effectively exercise these dogs, helping them to recover and regain their confidence. Currently we do not have a treadmill, and would love to purchase one.