This September, the Humane Society of Walden is thrilled to share the heartwarming news of 39 adoptions, each one a triumph of hope and compassion. Among these amazing stories, two stand out – the adoptions of Buttercup and Phoenix, two remarkable souls who have finally found their forever homes.
Buttercup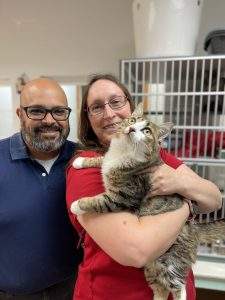 Buttercup, our most beautiful and beloved kitty, captured the hearts of all who met her. However, her special needs presented challenges that made it difficult for potential adopters to commit to her care. This resilient feline, who just celebrated her first year, had a challenging start in life as a bottle baby. Although her early struggles were believed to be due to a traumatic birthing experience, the true cause remains a mystery. Throughout her time at our shelter, Buttercup remained incredibly affectionate, endearing herself to everyone who crossed her path.
Finding the perfect home for Buttercup was a task that took time, patience, and unwavering dedication. But, as fate would have it, the best parents for her walked through our doors. The joy and relief we felt were so overwhelming that you'd think someone was chopping onions – tears of pure excitement streamed down our faces. Today, all is right in Buttercup's world, and we couldn't be happier for her and her new family. Happy home forever, Buttercup; we adore you and your parents for welcoming you without hesitation!
Phoenix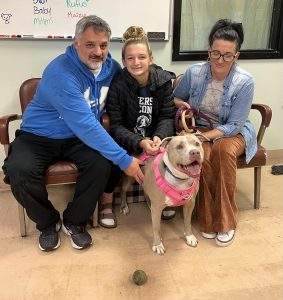 Phoenix, the charming girl who we've shared through countless videos and pictures across the internet, was a familiar face to many. She watched as adoptions happened for her friends, and people passed her by, leaving us puzzled and heartbroken. We may have more pictures of Phoenix than our own dog – that's how much she meant to us.
Phoenix, after an incredible two years (and only two weeks short of that milestone) in our shelter, Phoenix finally packed up her tennis balls and bid us farewell. The mixture of emotions here is indescribable. We're ecstatic that she found her happy ending, but oh, how we'll miss that heartwarming smile of hers. We know that she'll be the best girl ever, and we're immensely grateful to her new family for taking a chance on this senior pit of perfection. We love you forever, Phoenix, and you'll always be in the hearts of your aunties and uncles here.
September was a month filled with tears of joy and moments that will forever be etched in our hearts. Buttercup and Phoenix, along with the 37 other precious souls who found their forever homes, remind us why we do what we do. To all our supporters, volunteers, and adopters, thank you for helping us make these heartwarming stories possible. Together, we're making the world a brighter and happier place, one adoption at a time. 🐾❤️🐾
Some of the September Adoptions