The Myth of the "Free Puppy"
We see them in boxes at the front of supermarkets… adorable puppies with sad eyes just waiting for a home. They are irresistible and they are FREE. The sign says so. Just pick one out and carry him home. Or, someone has a friend with a new litter of puppies that they are trying to give away. An impulse decision that costs nothing. As the recent tragic story in THR Pet Tails describes in graphic detail, nothing could be more erroneous.
Princess could not be saved after being neglected for so long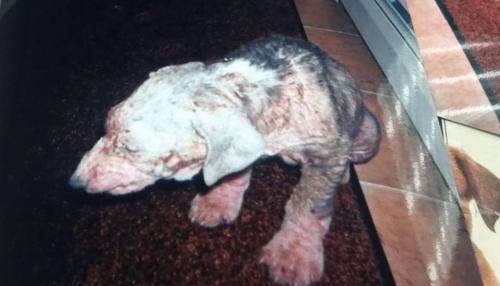 Justice was such a puppy. I'm sure that he and his sister named Princess were cute and lovable. Unfortunately, the family who took these two babies did not demonstrate that they knew how to care for them, or how much money it would take to do it. And when the puppies' health began to suffer, things went very wrong. Medical care reportedly was never obtained. The owners did not have the resources. The ultimate cost was much misery and suffering for both puppies, and the death of Princess. She could not be saved despite the veterinarian's efforts. Justice was treated for many days at the Montgomery Veterinary Practice. He had serious health problems and will continue to need treatment for several more months. The responsibility for the medical bills will be assumed by the Humane Society of Walden, helped by generous donations by those who read his story and by Montgomery Veterinary Practice. No financial responsibility was assumed by the owners.
Puppies and kittens are vulnerable babies. Just like babies, they need nurturing, proper food and shelter and close supervision. They need protection from illness and injury. It's irresponsible to take home any pet without knowing you can properly take care of them.
The real cost of pet care is more than a bag of kibble. An initial visit to the veterinarian's office or to a clinic for distemper and rabies vaccinations, heartworm testing, spay or neutering can reach into the hundreds of dollars. These are not optional procedures. They are necessary for the pet's health and safety and the safety of the public. Responsible pet owners get these done.
Pet ownership is and always should be available to people of all income levels. The joy and rewards of having a pet is priceless. However, owning a pet does have a price. The key is choosing a pet that fits your lifestyle and financial situation. Many local shelters and rescues offer adult cats and dogs at reduced or waived adoption fees to approved adopters. These pets are already spayed or neutered, necessary immunizations completed and are ready to leave the shelter for a loving home. In addition, resources for pet food, low cost vaccines and other services are available through many townships, food banks and clinics.
Pets make such a difference in our lives; and they depend on us for everything.
We must do the right thing by them.
Jean Buckley, President
Board of Directors
Humane Society of Walden
Walden, NY 12586
Volunteer at the Humane Society of Walden
The Humane Society of Walden is a no-kill, non-profit safe haven dedicated to helping stray and abandoned cats and dogs. Our animal shelter serves the communities of Montgomery, Walden, Maybrook, Crawford, Wawarsing, Shawangunk, and Mamakating, but will not turn away pets from across the country in need.
Humane Society of Walden
2489 Albany Post Road
Walden, New York 12586