During "kitten season" (starting in April and ending early October) every animal shelter and rescue across the country fills up and continues to get dozens of appeals to take in orphaned kittens or pregnant mothers. Requests range from taking a lone baby only a few days old, to a litter of six who have lost their mom. All these kittens have one thing in common – they need a place to live, QUICKLY, until the local shelter has room to take them in.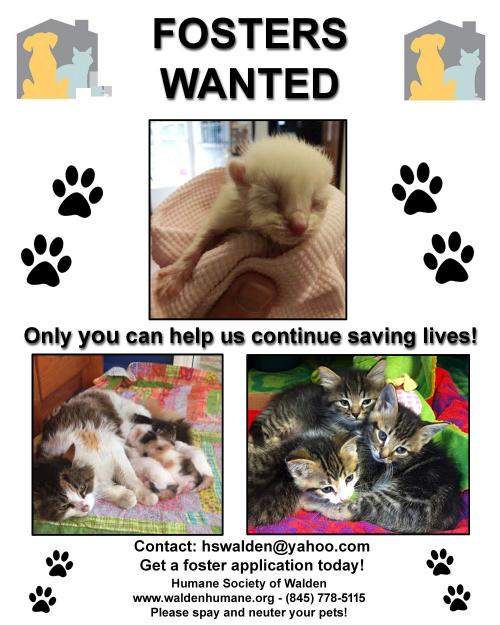 Foster care saves lives by allowing the shelter to say YES to these appeals, to accept these cats and kittens even when all shelter cages are full. Most fostering is short term, from a few days to a couple weeks. Foster moms (and dads) pick up the babies at the shelter where they have been wormed and treated for fleas and they head home with food, litter, milk replacement and a few instructions. The rest is maternal (or paternal) instinct. The shelter continues to be the resource for any necessary vet care during this time.
Most foster babies thrive in a foster setting. The care given by a foster family insures good health and not only from the nutrition the kitten receives. The loving attention given by the foster family, being held, kept warm and comfortable boosts the baby's immune system. The foster parent truly serves as a surrogate taking over those duties usually performed by the mother cat. For more intrepid care providers, it is great when we can get a sick cat or kitten out of the shelter and have them treated in an environment that is quiet and calm where they can relax,rest and recharge. Most of the time a week of antibiotics, eye drops or the like will clear up common conditions and the kitten can come back healthy and ready to be adopted out. Bottle babies – very young kittens who require feeding with a bottle – are the most challenging. They require feeding every 3-4 hours when very small. Foster parents take over the job that mommy would have done, cleaning, bathing, and teaching them important things like how to eat solid food and use a litter pan. This can be a lot of work but is also very rewarding when you see a tiny baby grow up into a sweet, playful kitten ready to go out into the world and be adopted to a loving home.
This isn't to say that there aren't kittens whose immune systems are too compromised for them to survive. Kittens who have been out in the elements too long, or have mothers who were ill during pregnancy, or born too underweight may not be able to make it. Those are tough situations. The shelter staff are there to help foster parents through those times. Although it's easy to become attached to a kitten that you have watched grow and thrive, knowing he is off to a great life, where he will be the heart and soul of a family, makes the separation easier. And taking in the next needy orphan reinforces that decision.
Shelters and rescues urgently need foster care providers in order to save more animals. Having a list of care providers on speed dial means we can say YES more often to taking in animals who need shelter. Please stop by the Humane Society of Walden to meet us and learn more about fostering. Not only will you be saving these lives but you will incredibly enrich your own.
Volunteer at the Humane Society of Walden
The Humane Society of Walden is a no-kill, non-profit safe haven dedicated to helping stray and abandoned cats and dogs. Our animal shelter serves the communities of Montgomery, Walden, Maybrook, Crawford, Wawarsing, Shawangunk, and Mamakating, but will not turn away pets from across the country in need.
Humane Society of Walden
2489 Albany Post Road
Walden, New York 12586